A History Of Templeshanbo Parish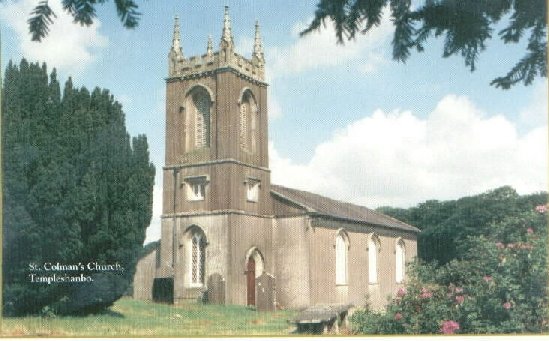 Click To Enlarge
The ancient Church of Templeshanbo was founded by Saint Aedan who gave it to Saint Coleman Ua Fiachra (The founder of Kilmacduagh). Saint Colman died in the first half of the 7th Century. An account in the Martyology of Donegal states that he was Abbot of the Monastery of Templeshanbo in Hy Kinsellagh where he was interred.
Of this ancient Church only a fragment remains, a portion of the semi-circular headed door-way in the Western gable and a stone font. Shanbo river divides the two ancient burial grounds and if you stand on it's banks you have a perfect view of both grave yards and the present Church of Ireland Church.
The very fine Church of Ireland Church of Templeshanbo was built in 1850 by means of a a loan of £923-1-6 1/2 from the late board of First Fruits and the sum of £276-18-5 1/2 was raised by parochial assessment. The Church was enlarged in 1826 by means of a further loan of £300 from the board of First Fruits.
A commission set up some years ago to assess the value and architectural interest of all Church of Ireland Churches recommended that owning to the size and design of the East window of Templeshanbo Church it should be preserved. It has seating for 300, the present attendance being 170.
Cannon Smythe was the last resident Rector in Templeshanbo.
The records of Templeshanbo date back to
Thr Reverands Of The Church
1616 - Rev. Thomas Bennes
1628 - Rev. John Thompson
1660 - Rev. John Watson
1665 - Rev. John Jones
1668 - Rev. Michael
1681 - Rev. Myles Sweeney
1690 - Rev. Nathaniel Huson
1878 - Rev. John Willam
1892 - Rev. Henry Kyle Atkinson
1914 - Rev. William Benson
1926 - Rev. William Machette
1931 - Rev. Thomas William Lowe
1934 - Rev. Thomas Bateman
Monthly Services